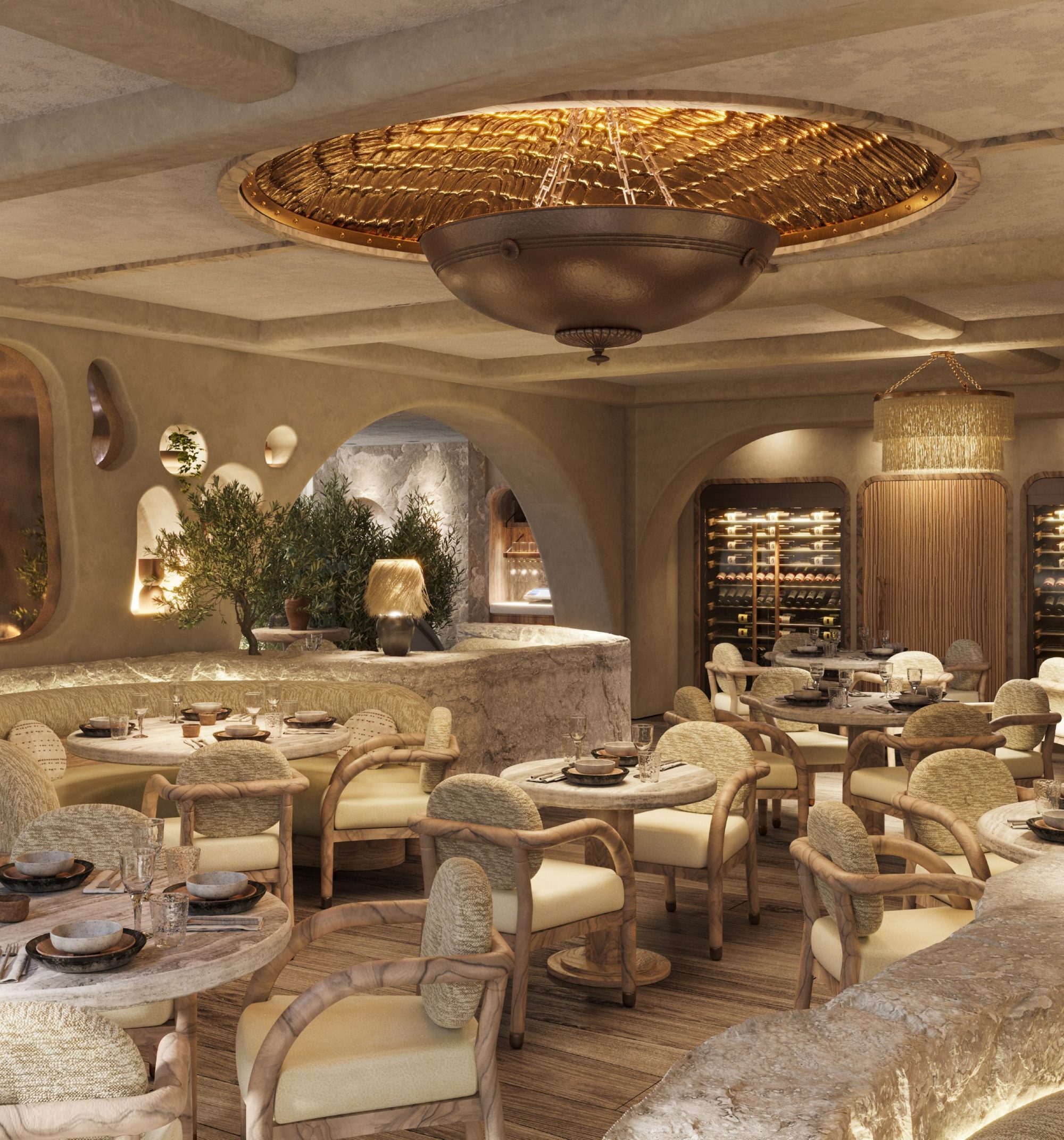 Drawing inspiration from the abundant landscapes and Greek seas, Fabled Studio brings the essence of the islands of Mykonos and Delos with its carefree hedonism and beauty to Manchester's dining scene, timelessly celebrating Hellenic culture in every aspect of the design. Following on from the award-winning design of Tattu, diners will be enveloped in a space subtly layered to tell the mythological story of a Fenix rising from the ashes.
Upon entering FENIX, guests walk into the Fenix's nest – a dark and brooding, cavernous interior anchored around the feathered, burning cauldron of the back bar. Charred rockface walls symbolise the Fenix's re-birth, layered with a hanging barley ceiling echoing the ancient agriculture of the Aegean Islands. A large format terrazzo solid stone floor takes influence from the iconic streets of Mykonos, with bespoke furniture swathed in natural boucle, palm wood and custom-made ceramic tabletops.
As guests move through the bar, the magnificent interiors continue to a staircase sculpted around a 25-foot oak tree. Live sounds and cutting-edge light technology mimic the setting sun and rising moon across the Greek isles reflecting the iconic Mykonos twilight, to offer a restaurant space reminiscent of a Grecian beach-side hotel with ash-toned driftwood dining chairs paired with tactile, travertine tables and refined tableware. The first floor represents the Fenix's ascendence, warm and natural tones mimic the affirmation of the re-birth. The Bar and Restaurant channels the Mykonos nightlife vibe – a seam which is threaded throughout all aspects of the space. The design is brilliantly atmospheric, with clever innovative lighting that transforms the restaurant from an idyllic, glowing daytime retreat, to a romantic, moonlit paradise each evening – a truly ethereal zone.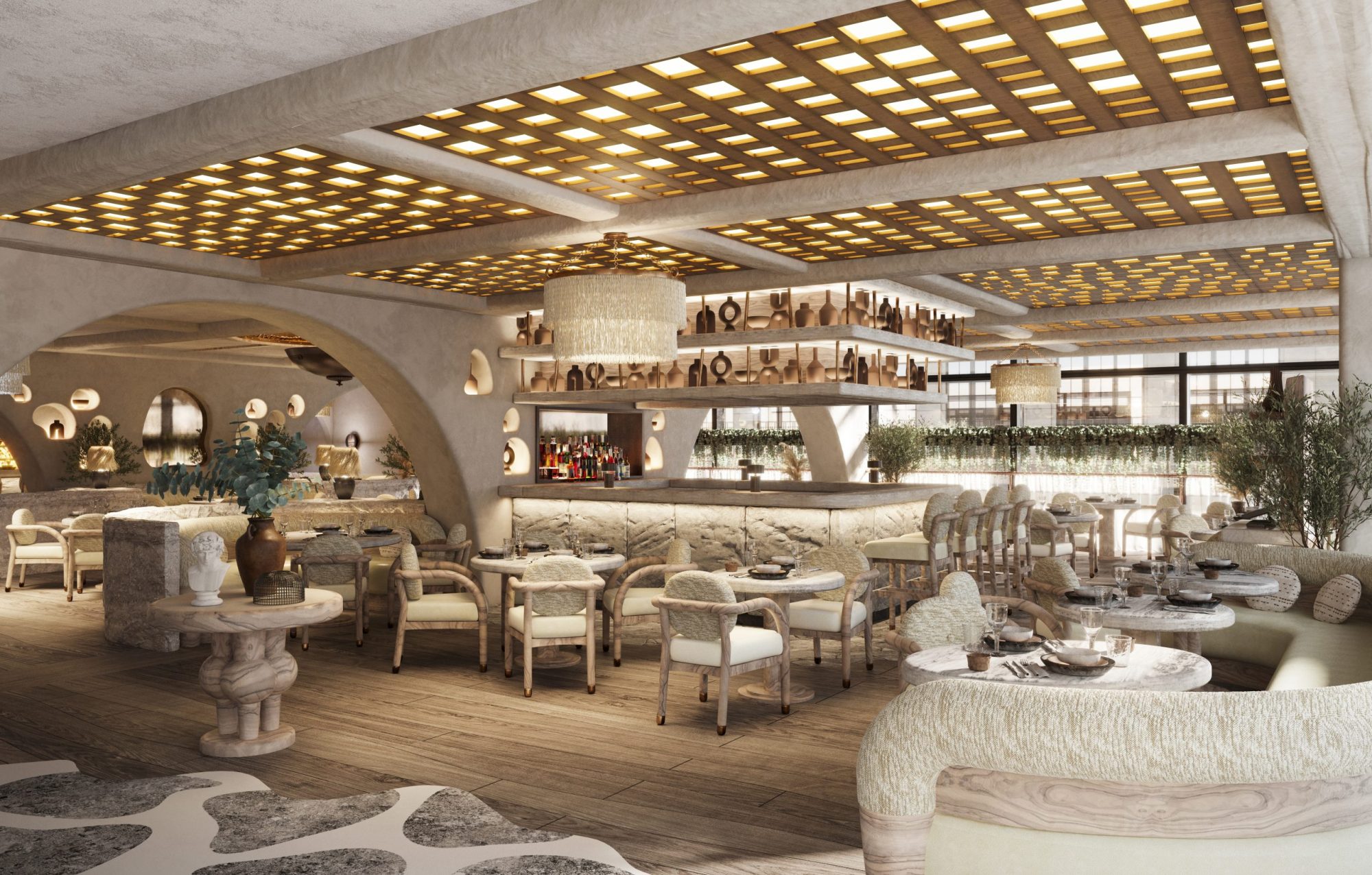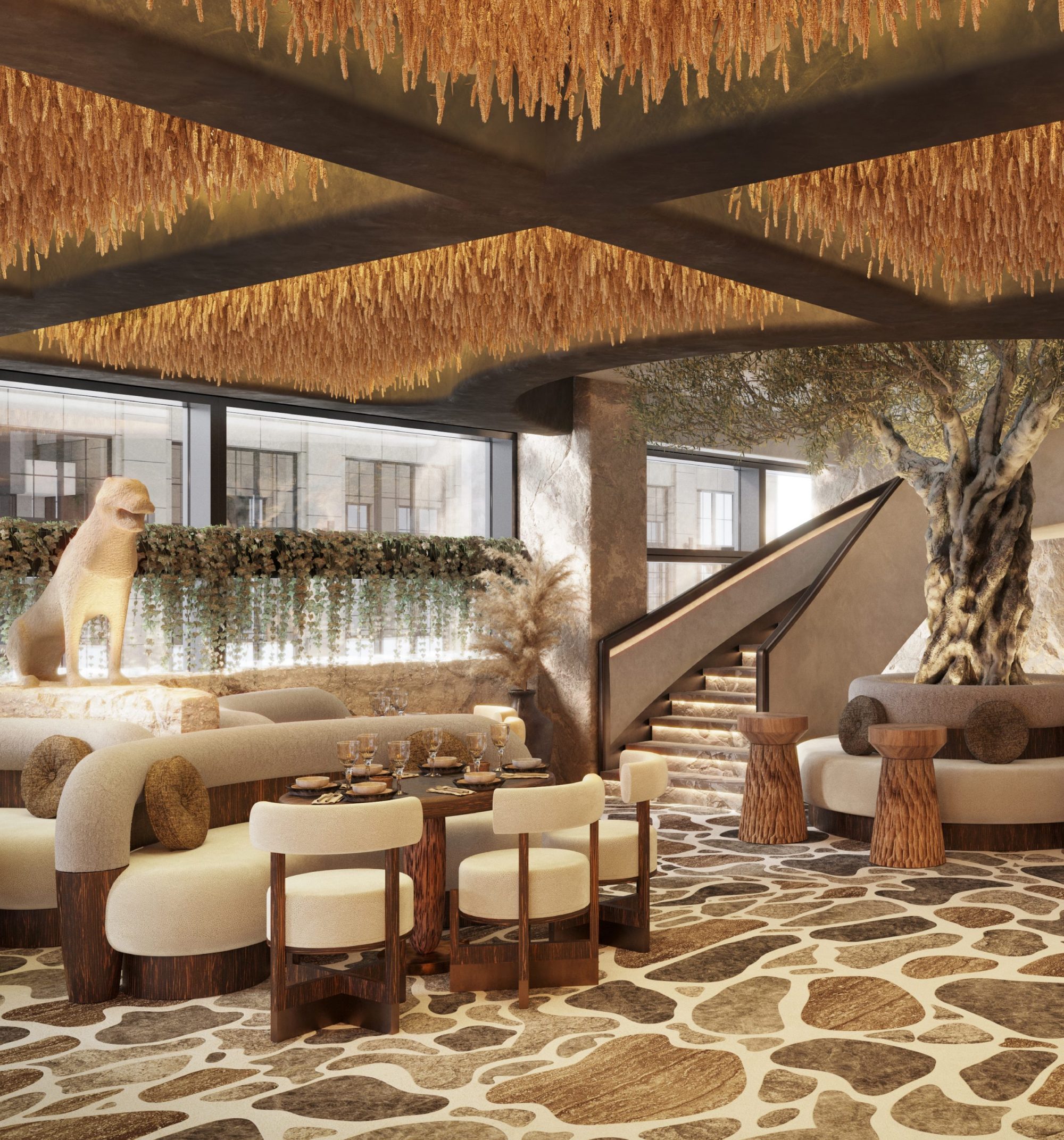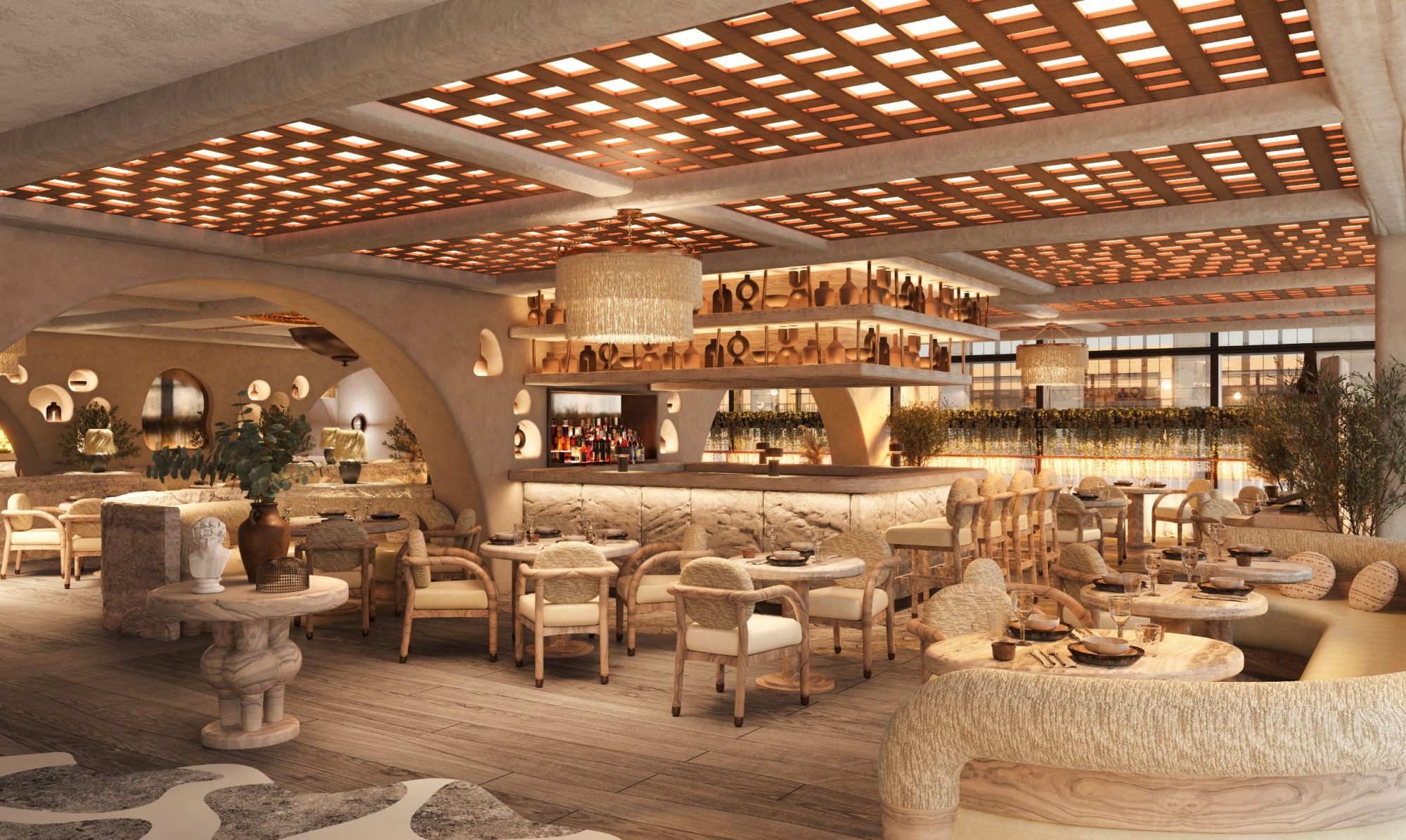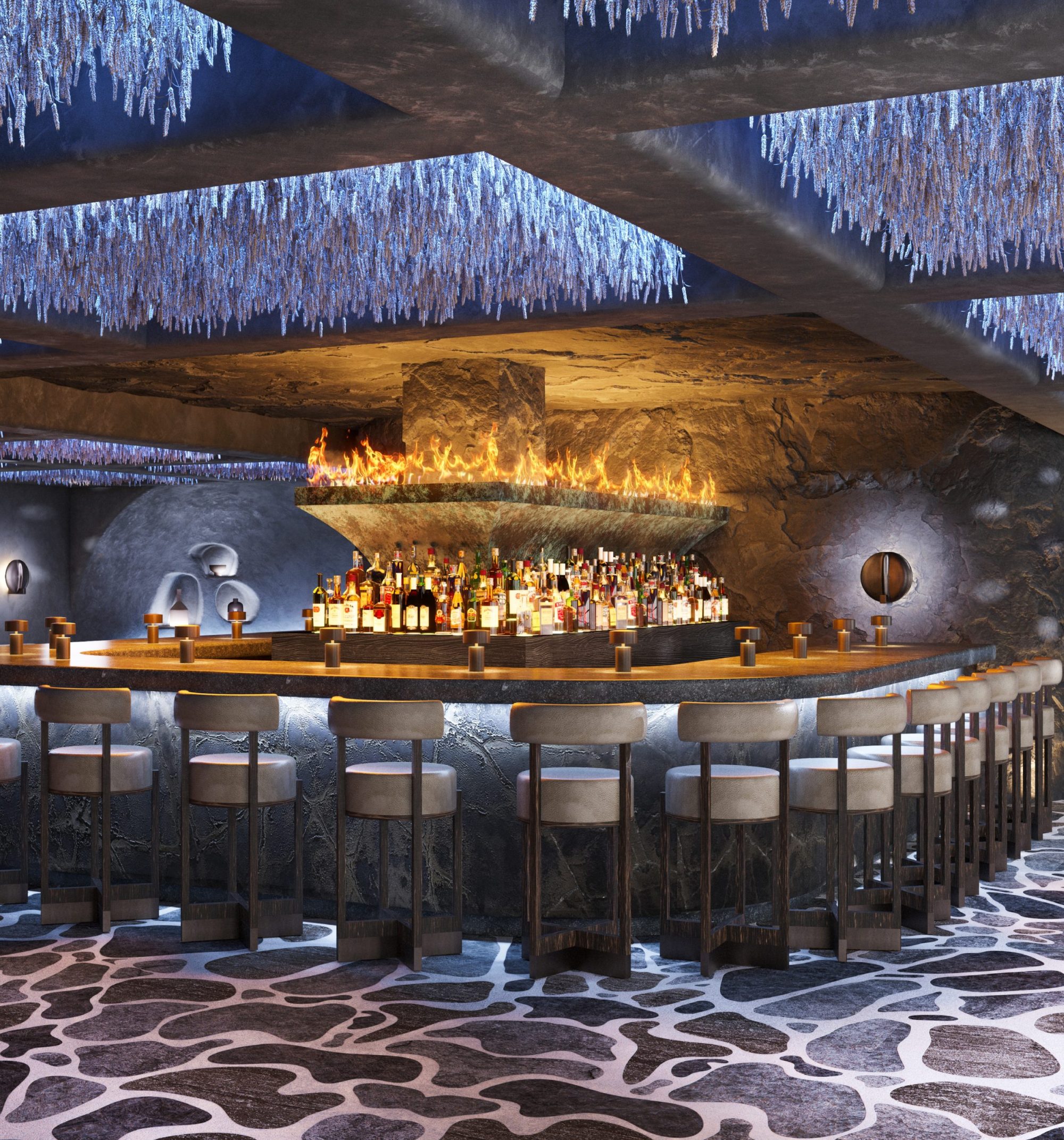 Inside the Restaurant, a double-height cliff face ascends from the ground floor into this heavenly space; designed by the talented team at Codsteaks, a set design company that worked closely with Fabled on several aspects of the design, it is a monumental statement of intent – a slice of the Aegean coast brought to Manchester. Hanging succulent plants line the full-height windows to bring freshness and greenery to this elegant space. The open-plan restaurant is a bright, breezy space with banquette seating sculpted into rendered, curved alcoves formed by hand using ancient rendering techniques with chandeliers hanging from feathered, bronze domes.
Steven Saunders, Founder of Fabled Studio comments,
"We are delighted to be working with Permanently Unique on this project and together we developed a holistic design treatment, placing an emphasis on traditional Greek craftsmanship paired with elements of dramatic theatre and intrigue"
08.03.23
08.03.23
08.03.23